Description

Specification

Size Guide

PayPal's 0% Credit

Delivery and Returns
The Wayfarer H7 is the stablemate of the H9 crossbar version, its very stiff step through frame is perfect for the rider who really cares about comfort but wants excellent control. In City spec it is a comfortable commuter or day to day workhorse but underneath the city exterior beats the heart of a true thoroughbred. Hidden away the Wayfarer super hi torque hub motor develops 50Nm at the wheel which is about the same as 100Nm at the pedals. Strip off the comfort products and change the tyres and you have the perfect off roader for a day in the hills and forests.
Motor
Wisper Hi Torque Rear Hub Drive 43.2V 250W Nominal
Lithium Battery
In frame, secure removable. Chargeable in or out of frame
On/off button with LED charge status light.
Standard 450Wh
Long range 700Wh
Assisted range
Total load, terrain, road surface, tyre pressures, speed, power setting, wind conditions and motor power all have a huge bearing on an eBike's bikes range. With this in mind, you may expect to achieve the following AVERAGE ranges. Due to the number of outside factors affecting all electric bikes, our published ranges are estimates only, based on our experience and are not guaranteed.
450Wh battery 20 – 40 miles (30 – 60km)
700Wh battery 30 – 60 miles (50 – 100km)
Controls
Wisper Back lit LCD display with remote controls
Thumb throttle to 4mph (6km/h) walk along
Thumb throttle to 15.5mph (25km/h) assist booster
Bicycle weight
450Wh: 26kg
700Wh: 28kg
Frame
Hand welded, 6061 Alloy T4 and T6 tempered
Frame size
18" 46cm
Frame Colour
Pillar Box Red or Sky Blue 6 coats
Saddle
Wisper Comfort, eBike with seat handle
Kick stand
Black anodised alloy
Gears
Shimano Altus 8 speed with Rapid Fire shifter
Chain
KMC X8 rust resist 8 speed
Chain drive
Prowheel 48t
Freewheel
13 to 34
Brakes
Wisper Apex Hydraulic disc brakes, 2.5 finger F180mm R160mm
Wheels
Alloy black anodised double wall 27.5" x 1.24″ (31.4mm)
Tyres
Kenda 27.5" 2.2 high puncture resistance with reflector
Adventure Bike Tyre Upgrade (optional extra)
Schwalbe Smart Sam Perf, DD, RaceGuard, Folding 27.5" x 2.25" First class all-rounder with extra safe Double Defence puncture protection due to the 3mm GreenGuard layer and SnakeSkin sidewall. ECE-R75 approved for great riding fun on your E-Adventure Bike.
Mudguards
Black Anodised Aluminium 2.6″
Lighting
Front: Spaningo XE 6V powered from bike battery
Rear: Spaningo XE 6V powered from bike battery
Forks
Suntour XCM 30 100mm travel
Bars
eMTB 760mm anodised black
Stem
Magix black anodised 70mm
Seat post
31.6mm 350mm with 100mm safety line
Rear Rack
Wisper integrated custom, 17kg limit
Front Rack (optional extra)
Wisper integrated custom, 10kg limit
Max Weight Load Inc. Luggage
21st 135kg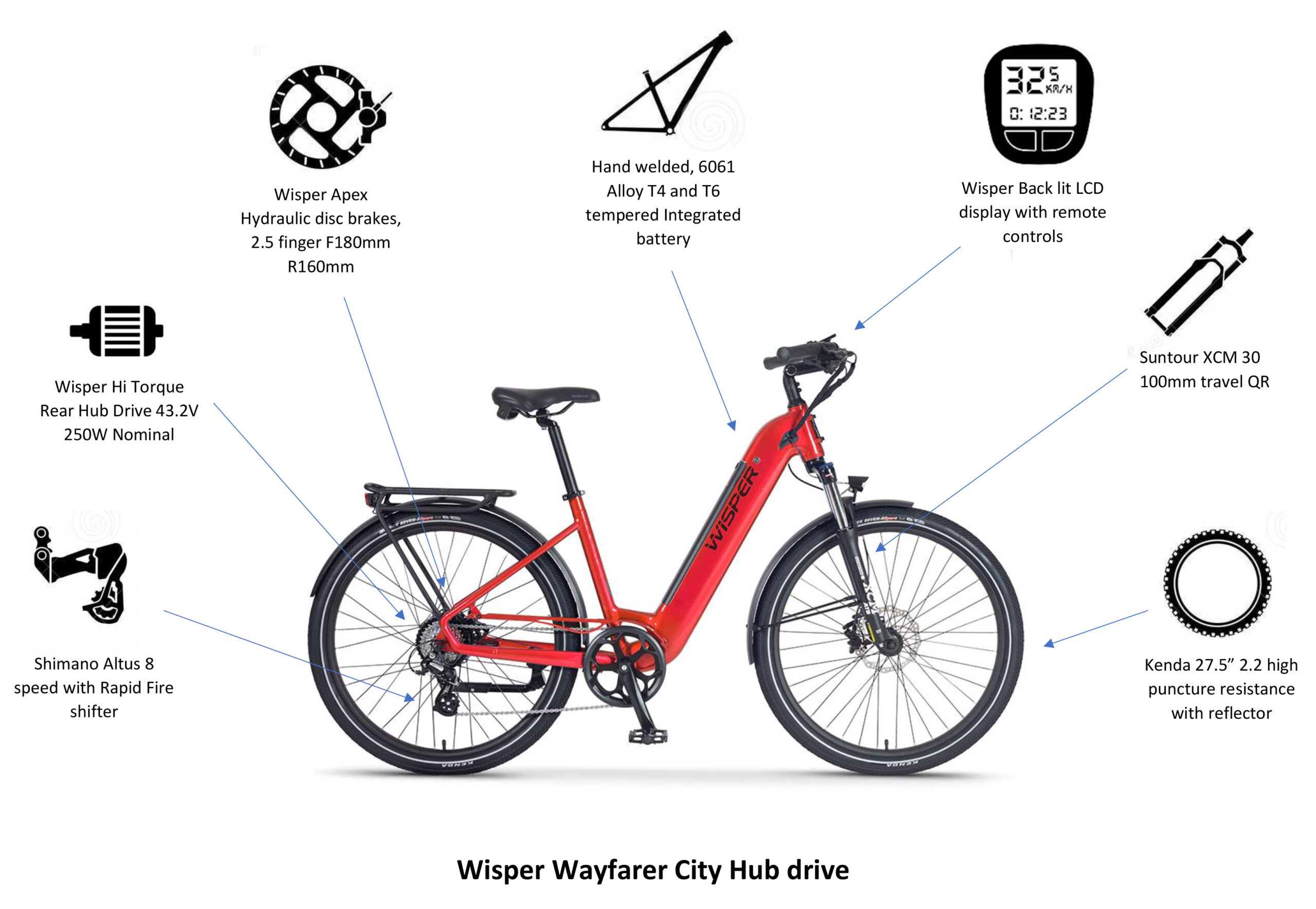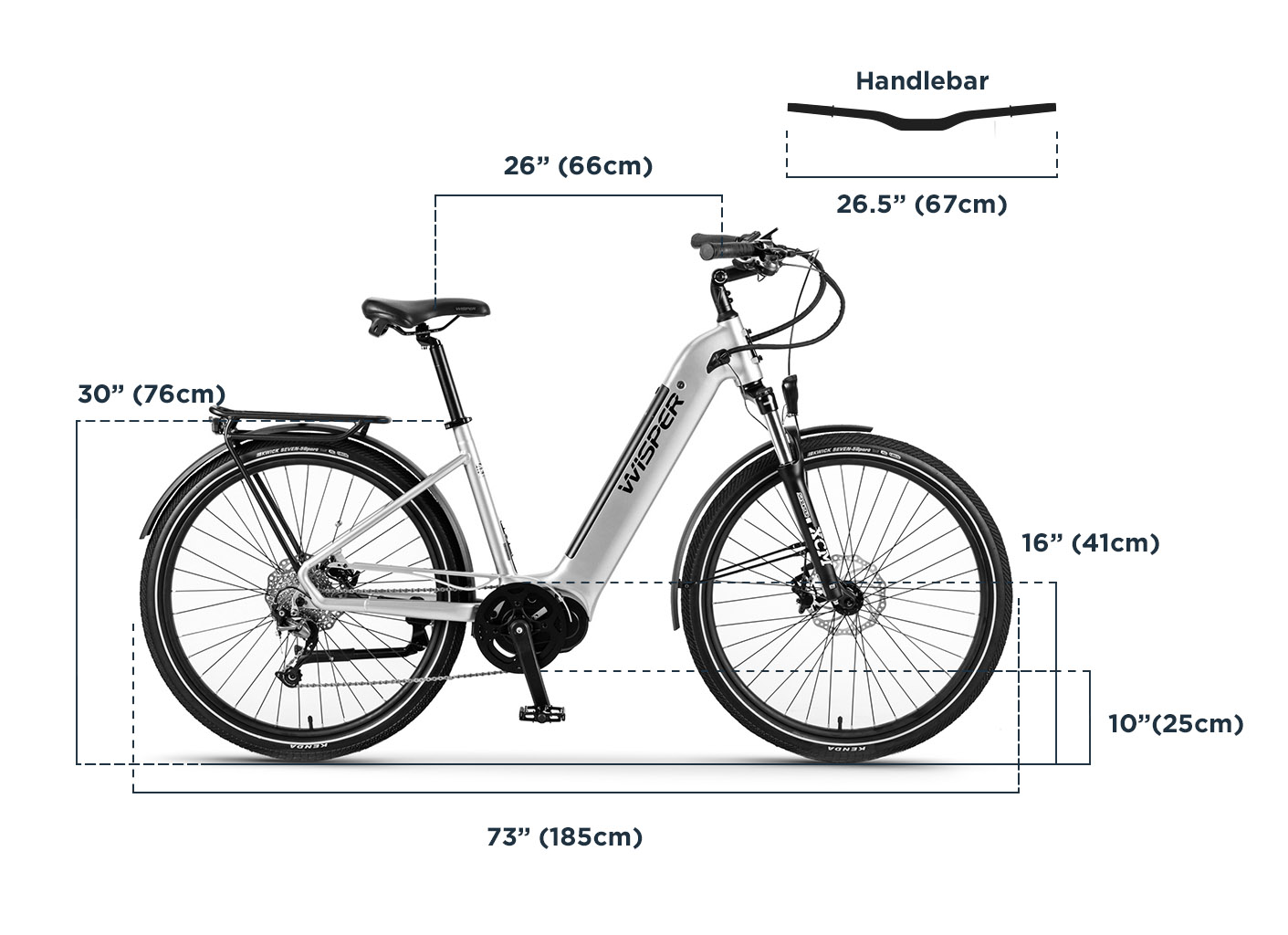 Spread the cost of your payment by making use of PayPal's Credit 0% finance offer. PayPal Credit is the perfect way to spread the cost of larger purchases, buy now & pay later with 0% interest for 4 months.  
Select PayPal as the payment option at checkout - once redirected through to PayPal choose the PayPal Credit option.
Cancelling your order
If you would like to cancel your order, please contact us immediately at contact@launchelectric.com or on 02034889304. Please include your order number when contacting us. 
If your order has not yet left the manufacturer's warehouse, we should be able to stop it shipping, and issue you a refund immediately. 
Please note –  when returning a product, it must be returned in 'as new' condition, with all components included, in their original packaging. There will be a charge for the return.
Returns - Changed your mind
If you change your mind after buying from us and want a refund, you have up to 14 days to let us know and have the goods returned to us. You will need to return the product to us before we can provide a refund. Launch Electric. can help arrange the return for a charge of £50 - a courier will be sent to pick it up from you & return it to the manufacturer.   
Please note –  the 14 days return period is to allow you to examine the goods as you would in a shop. To obtain a full refund, the goods must be returned in an "as new" condition with all components included in their original packaging. "As new" condition is defined as unridden.
Returns - Damages & Faulty 
We ask that you thoroughly inspect all items at the point of delivery. We advise you not to accept delivery of any damaged items. If you discover that an item has been damaged, please send clear photos of the damaged items to contact@launchelectric.com so that we can open an insurance claim on your behalf.
If your bike develops a fault through normal use (as outlined in the manufacturer's manual) you could be entitled to a repair or replacement as covered with the warranty. Please send through details of the fault to contact@launchelectric.com and we will arrange the repair or replacement with the manufacturer. 
Please note –  any fault caused due to misuse of the bike is not covered by this policy. Please ensure you read the manufacturer's manual in detail before using your electric bike to avoid voiding your warranty.
With fun and fitness in mind
With fun and fitness in mind I started researching electric bikes, I didn't realise how many there were or how much you could spend. At 5'11 and almost 20st. It had to be right and in budget. The Wisper Wayfarer hub drive step through (no more throwing my leg in the air) was the one and four days ago I collected my new red bike. It took a couple of hours to get the power modes and use of gears working together, now I absolutely love it. What hills ! The motor kicks in and pulls you up the steepest of hills and at any point you can get assistance to make your journey so easy. Thank you Wisper, EXCELLENT.